Travel to Victoria B.C.
Visit Victoria today! There are 101 things to do, and 2 ways to get there with the Seattle TourSaver: From Seattle on the Victoria Clipper, and from Bellingham on Victoria-San Juan Cruises. From Seattle, getting to Victoria's inner harbor takes 2.5 hours aboard the very smooth and comfortable Victoria Clipper.
On a sunny summer afternoon you'll immediately see a beehive of activity around the yachts and fishing boats as you make your way to the terminal. The Fairmont Empress Hotel and the Parliament buildings form a picturesque frame as you embark into British Columbia's charming and attractive capital city. If your lucky enough to have a room over at the Best Western Inner Harbor, it's just a 3 minute walk from the Clipper's Belleville Terminal–after you clear Canadian immigration and customs.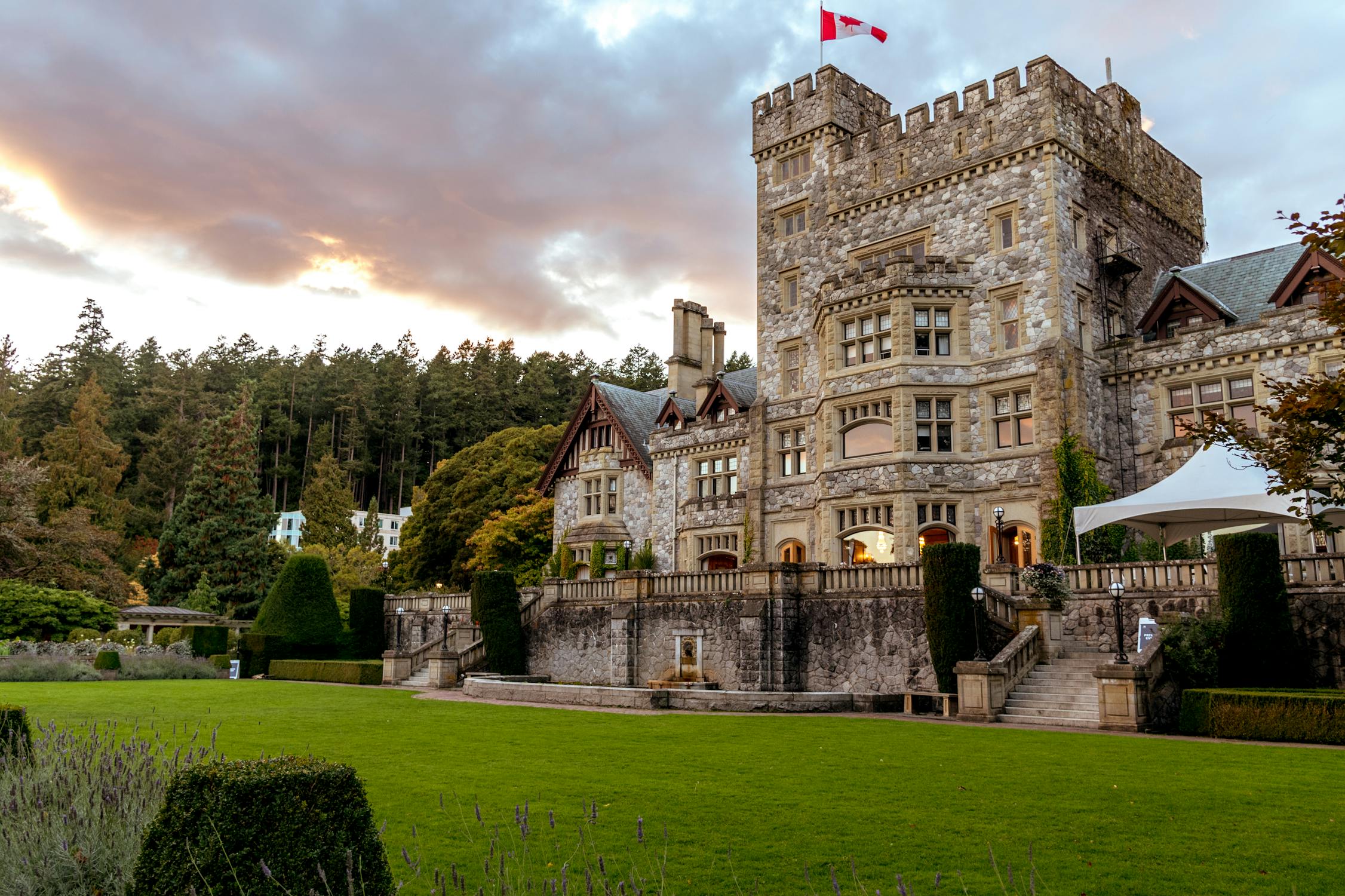 Things to do in Victoria B.C.
If you can find your way over to the Tourism Victoria visitor info center at 812 Wharf Street you'll be miles ahead on planning your activity schedule. Pick-up one of their walking tour maps and get your feet on the street. You can hoof it alone or with a guide but after half a day around the city on foot you will be impressed by historic architecture and charmed by Canadian hospitality and random acts of kindness.
The best way to get a perspective of Victoria's busy harbor is to jump aboard the Victoria Harbour Ferry. The captain is your tour guide on these twelve-person water shuttles and there are no reservations required. Another way to see Victoria is on the Big Bus City Tour. You can hop on the Big Bus tour at any of their stops. Most guests like to do the full tour first, then hop on and off at the attractions. With a 2-day ticket you can see everything the city has to offer at your own pace!
Two anchor attractions, right next to the harbor, are the Royal BC Museum and The Empress (for its gardens and traditional British afternoon tea). But just a short bus ride away you'll find Butchart Gardens–certainly world famous by now and great for a stroll and casual lunch. Run by descendants of the Butchart family, the 55-acre gardens starting taking roots a hundred years ago. A favorable climate on Vancouver Island allows the garden to stay open year-round. There are arts and entertainment programs in the summer including live music and fireworks and tens of thousands of colored lights on display in December.
Bicycle touring is very popular in B.C. and a good way to cover more ground and Victoria is the known as the "Cycling Capital of Canada". Stop by and rent a bike from Island Boat Rentals. The Galloping Goose trail, built on abandoned rail beds and trestles, takes you through the many diverse landscapes of Vancouver Island. Ride north from Victoria up to Swartz Bay and you'll get and eyeful of quaint countryside coastal plains and fir forests. Heading west on "The Goose" will take you to Leechtown–once the site of an an old mining community. Stop at Sooke Potholes Regional Park to see a wonderful series of deep, polished rock pools and potholes, carved naturally into the sandstone bedrock of the Sooke River.
Check out Great Pacific Adventures and embark on a 3-hour whale watching adventure on the "King Salmon." See killer "Orca" whales in the emerald waters of southern Vancouver Island. Watch for whales with dorsal fins of up to six feet–weighing up to 18,000 pounds! Also, watch for gray and humpback whales, porpoises, sea lions and more! Depart from Victoria's inner harbor aboard the "King Salmon", a 45-foot ocean cruiser, featuring both indoor and outdoor viewing. Bring your camera!
If you take to the water kayaking opportunities are aplenty. Rent a single or double kayak from Island Boat Rentals and get out in the harbor. Victoria and its surrounding area have some of the best kayaking and canoeing in the world. Vancouver Island has approximately 3,500 kilometers of ocean coastline, 700 lakes, 160 rivers and 890 streams for your paddling pleasure. Located amid spectacular West Coast scenery, these waterways are shared by an abundance of marine creatures and wildlife.
If you want to see Victoria by air, take a floatplane tour at Hyack Air in front of the Victoria Regent Hotel.
Don't forget about the 101 other things to do and see while visiting Victora!
Where to stay in Victoria B.C.
At the high-end of the hotel chain, you'll likely sleep well at the Fairmont Empress. Throughout its history, The Fairmont Empress has played host to kings, queens, movie stars and many famous people. In 1919, Edward, Prince of Wales, waltzed until dawn in the Crystal Ballroom. In 1989 a $45 million renovation restored the grand hotel to its original glory and then some. If you don't stay there at least walk the grounds and stop by for afternoon tea.
The Best Western Inner Harbor is a bit more modest but very comfortable with views of the harbor and is bordered by a small Belleville Street park where you can relax in the shade after walking the streets of this beautiful city.
Where to eat in Victoria:
For a late lunch on a harbor patio, Canoe is a busy bistro on the waterfront that will please your palate. They brew beer and serve up lagers, bitter, brown ale and pale ale in a historic building that dates back to 1894. The service is good and the atmosphere is rustic and casual. The menu covers the gamut from seafood to steak, pasta and potpie. This place should be on your dining list–for at least one meal.
If you are looking for a good cup of coffee, try a new place called "Habit" at 552 Pandora Ave. Habit Coffee and Culture hosts weekly coffee tasting (cupping to be precise) on Tuesday afternoons.
The best French restaurant in this Canadian capital city is in Chinatown. L'Ecole, a brasserie, (1715 Government Street) is an award-winning local favorite run by people that love the restaurant business and aim to please. Sommelier and co-owner Marc Morrison knows how to run a dining room and chef Sean Brennan can dish it out. Start with a couple of apps like Chicken Liver & Cognac Mousse or Cowichan Valley Chanterelles with bacon, cream and toast, then move on to Sooke Trout with Spanish chorizo, almonds, smoked paprika and brown butter. The menu changes daily and the room is usually full of satisfied diners–so make reservations.
Nightlife in Victoria:
Victoria is still open after dinner and there's a variety of venues to catch some live music and sample the BC nightlife. The Mint on Douglas Street can be relaxing or lively depending on the day of the week and they host live music or DJ's in a low light, dark wood atmosphere. The Irish Times is mainstay on Government Street & Bastion Square where performances by acoustic guitar crooners, fiddlers or Celtic jam sessions can be heard every night. The setting and the food are authentic Irish pub and the patrons sport a happy look of satisfaction. The Strathcona Hotel has five bars and restaurants. A brand new club, Jellyfish Lounge opened recently at 1140 Government Street (Lower Level of the Bedford Regency Hotel) with a very "Miami Vice" white leather feel and house music, high-end martinis plus a decent late menu.